inspired by spaghetti westerns, Grand Teton National Park (2016)

presenting Carto-OSC at Cornell (2018)

16mm film frame from Hojas de Maiz (2002)

Anchor Graphics residency (2002)

performing John Cage's Song Books w/Cornelius Cardew Choir (2010)
Michael Zelner

Rrose: A Leaflet Plugin

16mm film frame from Hojas de Maiz (2002)

performing Matmos' Just Waves at Bottom of the Hill (2011)
Michael Zelner

de Young Art Center, pinhole photograph (2005)
Projects New & Old & New
A few days after media scholar/radical thinker Gene Youngblood passed away on 6 April, Bryan Konefsky issued a call for 15 second tributes that he'd coalesce and screen during Experiments in Cinema v16.1. His montage was released as part of Experiment 1 (of 16!) on May Day 2021. The festival will be online all through the month of May; my submission, If Map #7 will remain available on Vimeo after the festival ends. Many thanks to Dean Santomieri for his guitar work on the soundtrack.
In 1990 Kurt Easterwood and I co-authored a 52 page monograph on Andy Warhol's films to coincide with Bay Area screenings of the first authorized batch of films to be seen since 1968. Although Kurt's lived in Tokyo for many years we're still in touch and, synchronistically, we arrived at the conclusion that the monograph should be widely available as a PDF (the original had a small print run, was sold for a nominal price at screenings, and occasionally turns up on used/rare book or auction sites). I'm delighted that I was able to resurrect an of-the-time ASCII export, integrate newly-written prefaces, and upload the facsimile to Monoskop, a fantastic repository for out-of-print writings on art.
Do visit filmstocks.info if you work with celluloid-based motion picture media and be in touch if it's something you'd like to contribute to.
❧
---
Mimics
tl;dr
To map a cellphone tower that mimics a tree, cactus, or another natural or man-made object in OpenStreetMap use, for example:
man_made=mast

tower:type=communication

mimics=palm
A list of known values may be found at Key:mimics and can be expanded as new cases arise.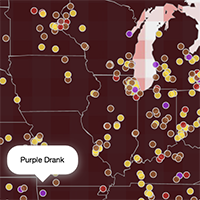 TRCTR-PLLR: Faking It for Cartographers
Fake. Like, Literally, Fake.