Pop Artist Robert Indiana was commissioned to design the basketball floor for the Milwaukee Exposition Convention Center and Arena (MECCA). The floor made its debut in October 1977 and was disassembled after the Bucks began playing in the BMO Harris Bradley Center in 1988. I don't know the current status of the floor, only that it was saved from a salvage sale by Greg Koller, then passed to the stewardship of his son, Ben, and that a replica was reconstructed for one game in 2017 to celebrate the fifty year anniversary of the Bucks' first season.
Three screenprints based on Indiana's studies for the final design were printed in editions of 50 by New York City's Simca Print Artists, Inc. and published by Milwaukee's Posner Gallery. I acquired this set in the early 2000s in Southern California. I displayed them in their original frame at home for a short while and have kept them in a flatfile for the better part of the past twenty years. They remain attached to the archival mount and the colors appear to me to be as fresh as the day they were screened.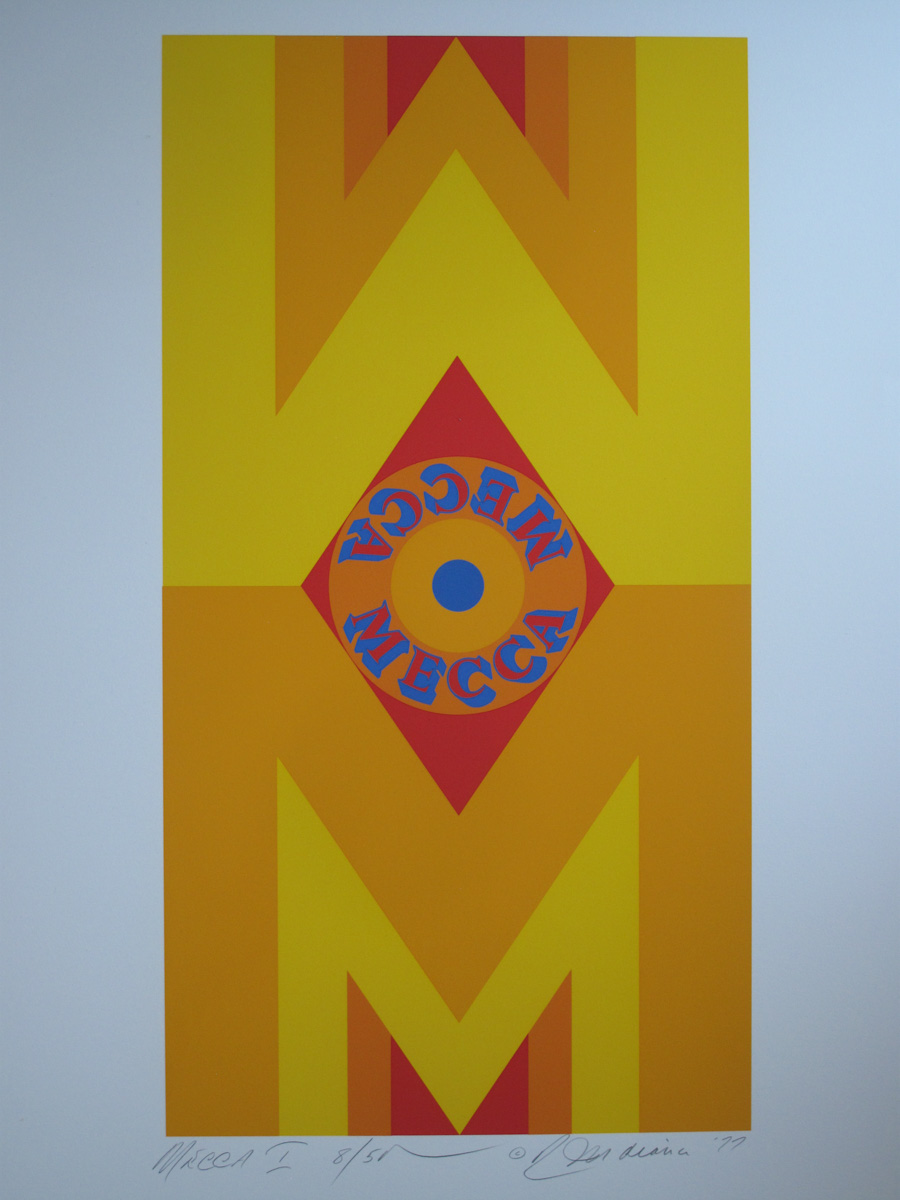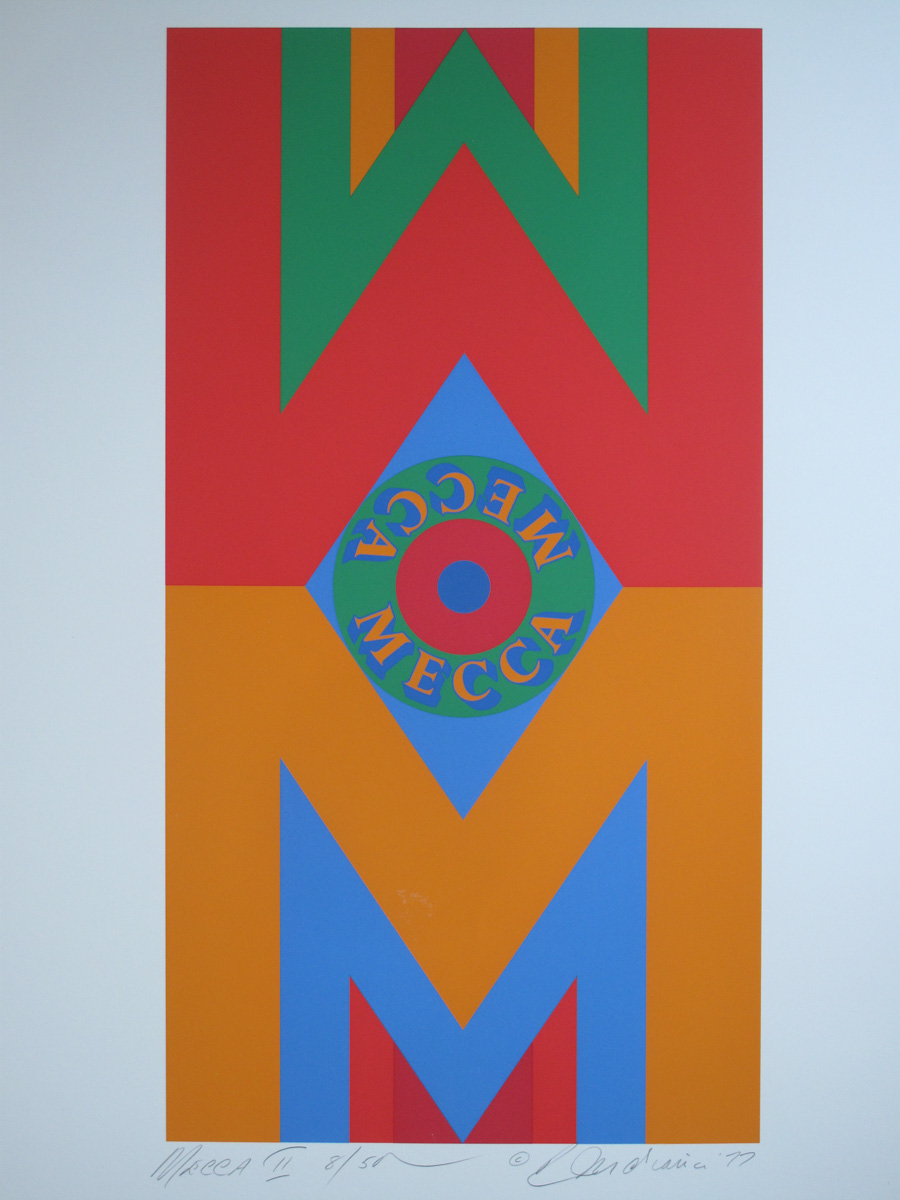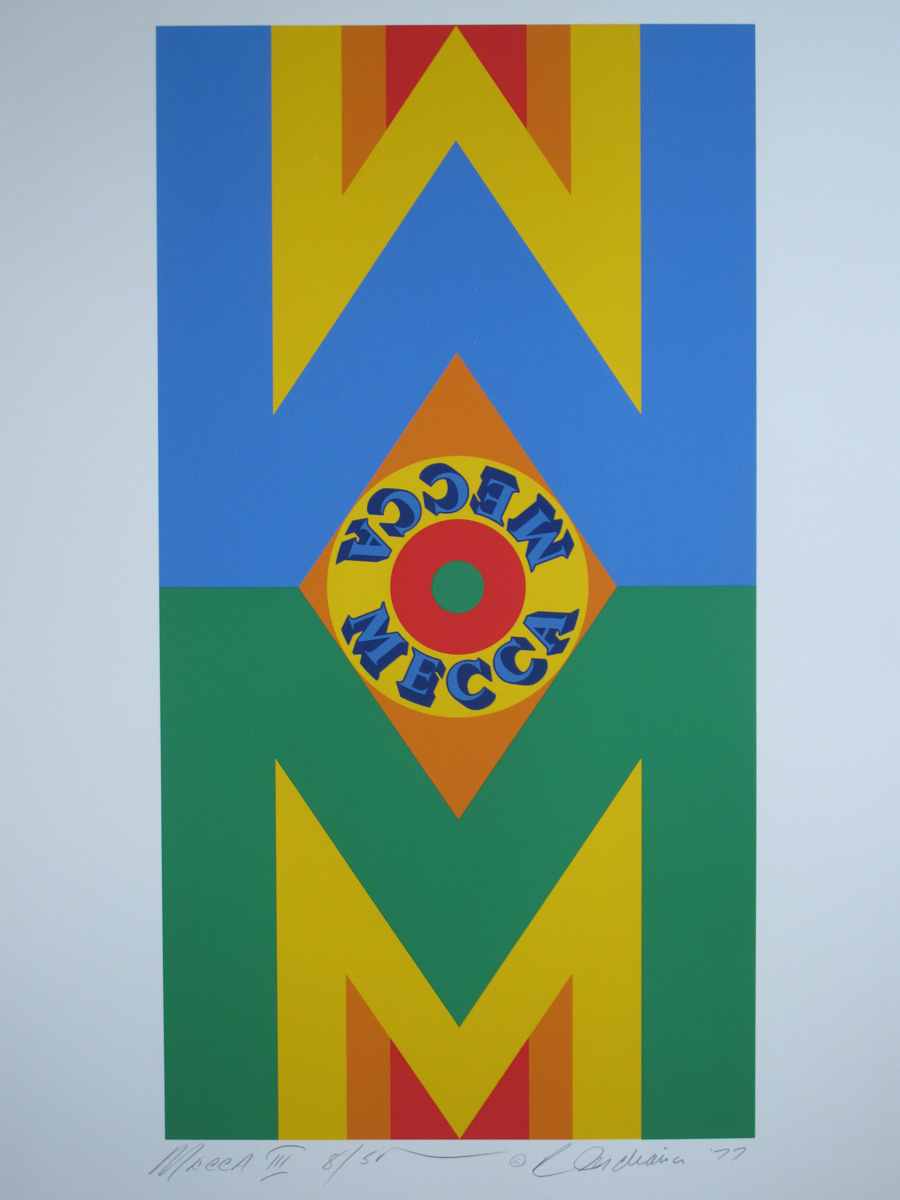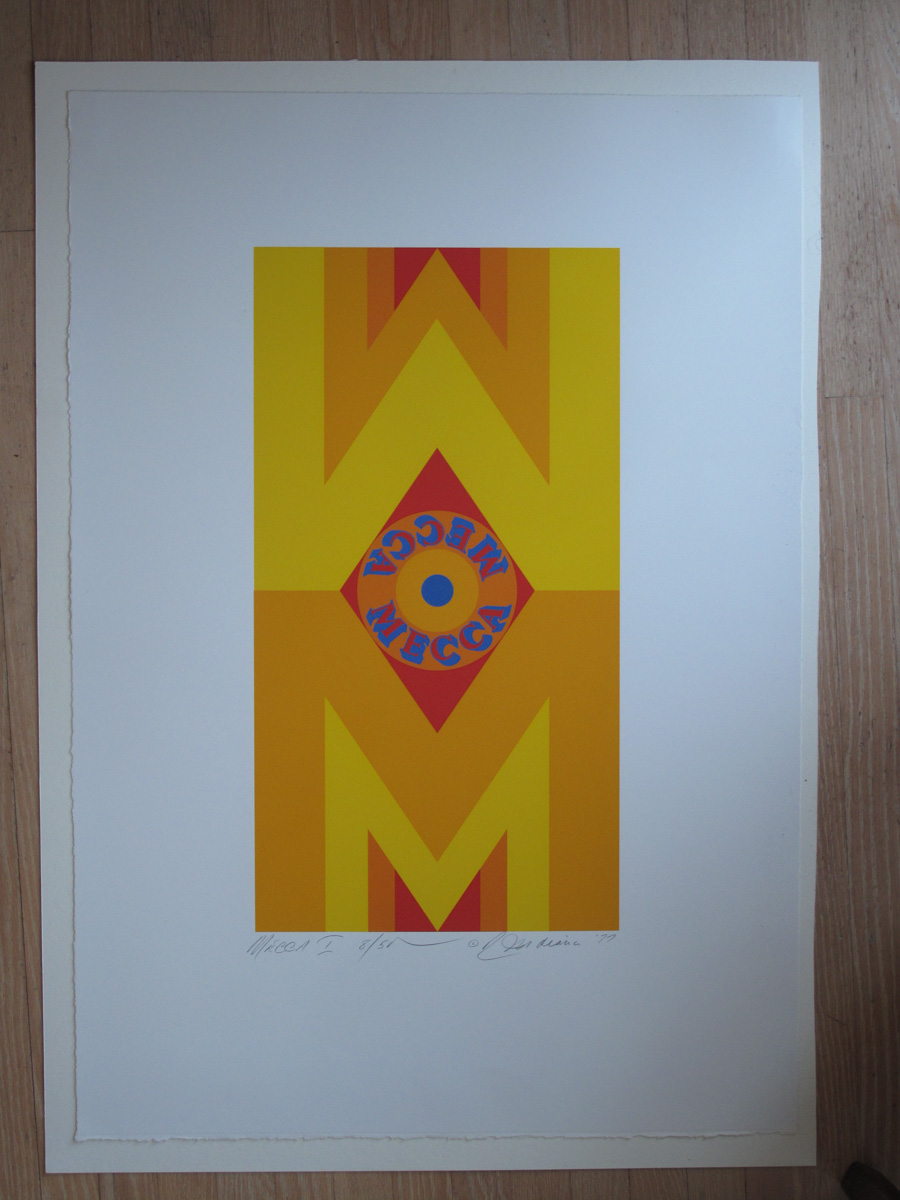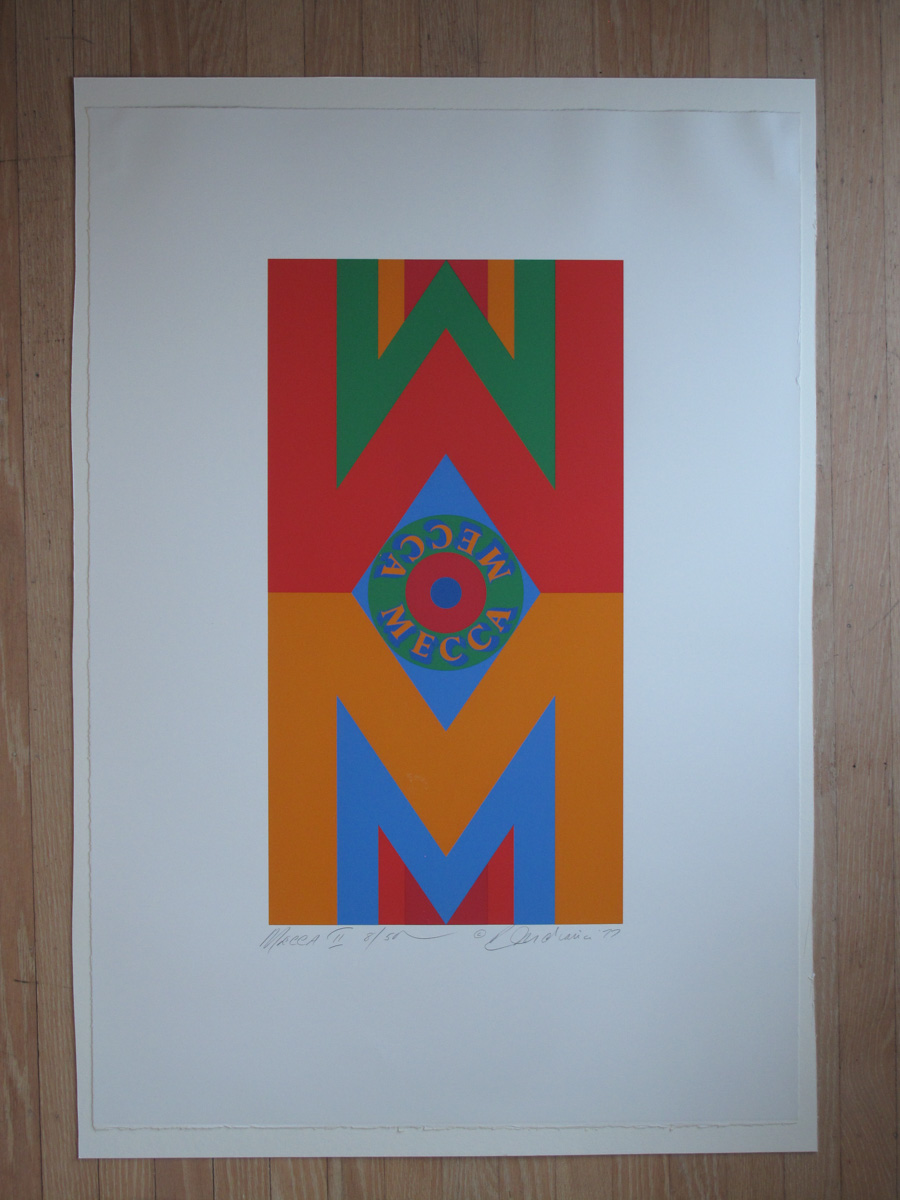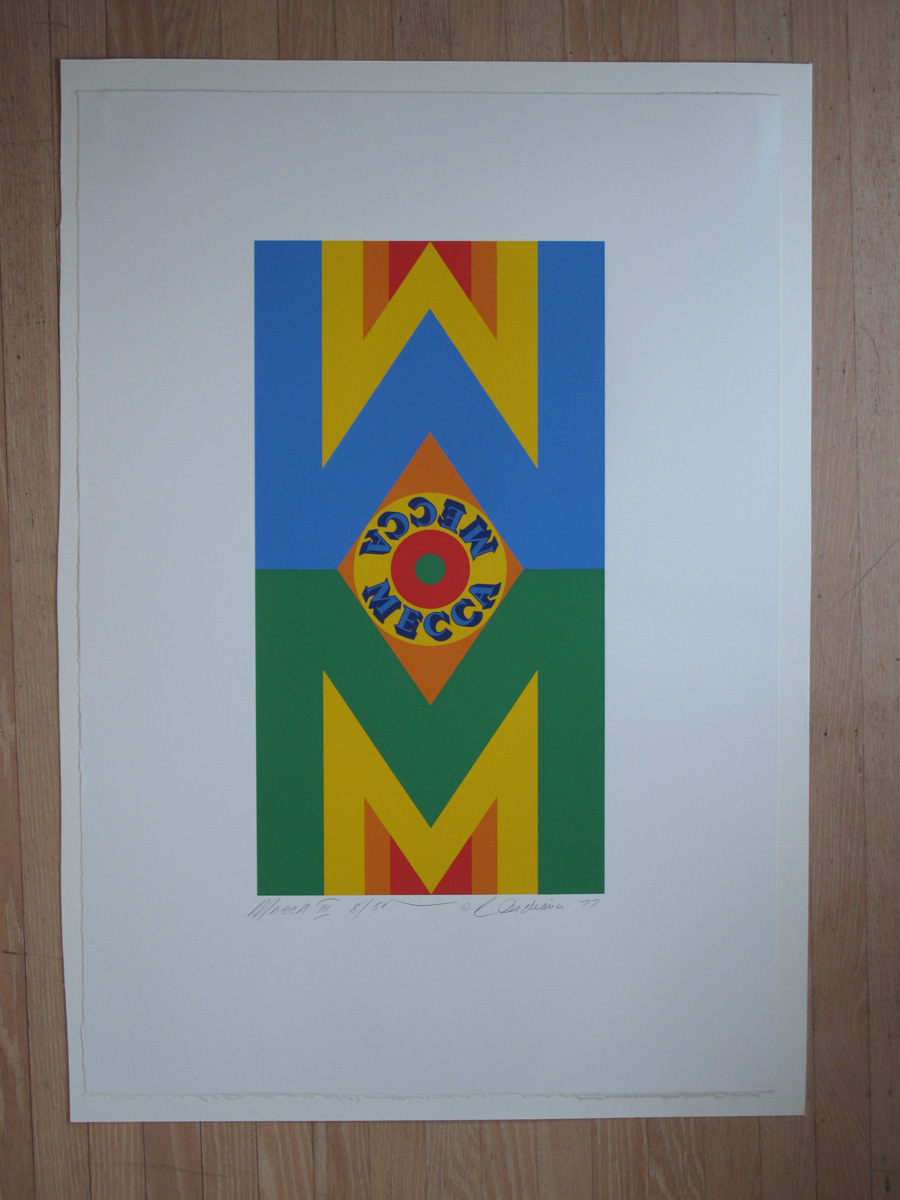 I don't represent a gallery, I'm not an art speculator, I don't even claim to be much of an collector. I appreciate the artists generally thought of as "Pop" for introducing me to art in general and I've been pleased to own these MECCA I, II, & III prints as well as other prints by that generation of artists.
I've glanced at sales and auctions for the MECCA prints over the years and can say with some confidence that it's unusual to find any of these prints in pristine condition, and quite unusual to find a complete set of three. So this is a rare opportunity to own pieces of Bucks, Milwaukee, and Pop Art history. (It's been argued that the MECCA floor is the largest piece of Pop Art ever produced.)
When I first considered selling these prints back in 2016 I was surprised to find that the Milwaukee Art Museum didn't own a set. I would have proposed that you become an instant philanthropist by purchasing them and donating them to the Museum. But in 2018 Dr. Robert and Susan Honigberg gifted their set. Their prints, Indiana's maquettes, related works, and other works by Robert Indiana can be seen at the Milwaukee Art Museum's collection site.
This sale includes a copy of "Robert Indiana" by Carl Weinhardt, Jr., a hardcover, coffee table book that is not at all rare, but presents a detailed and compelling history of Indiana's career up until 1990 (Indiana lived until 2018 and an ongoing kerfuffle about his estate was only settled last year). As shown in my photos, a few pages are devoted to the MECCA project.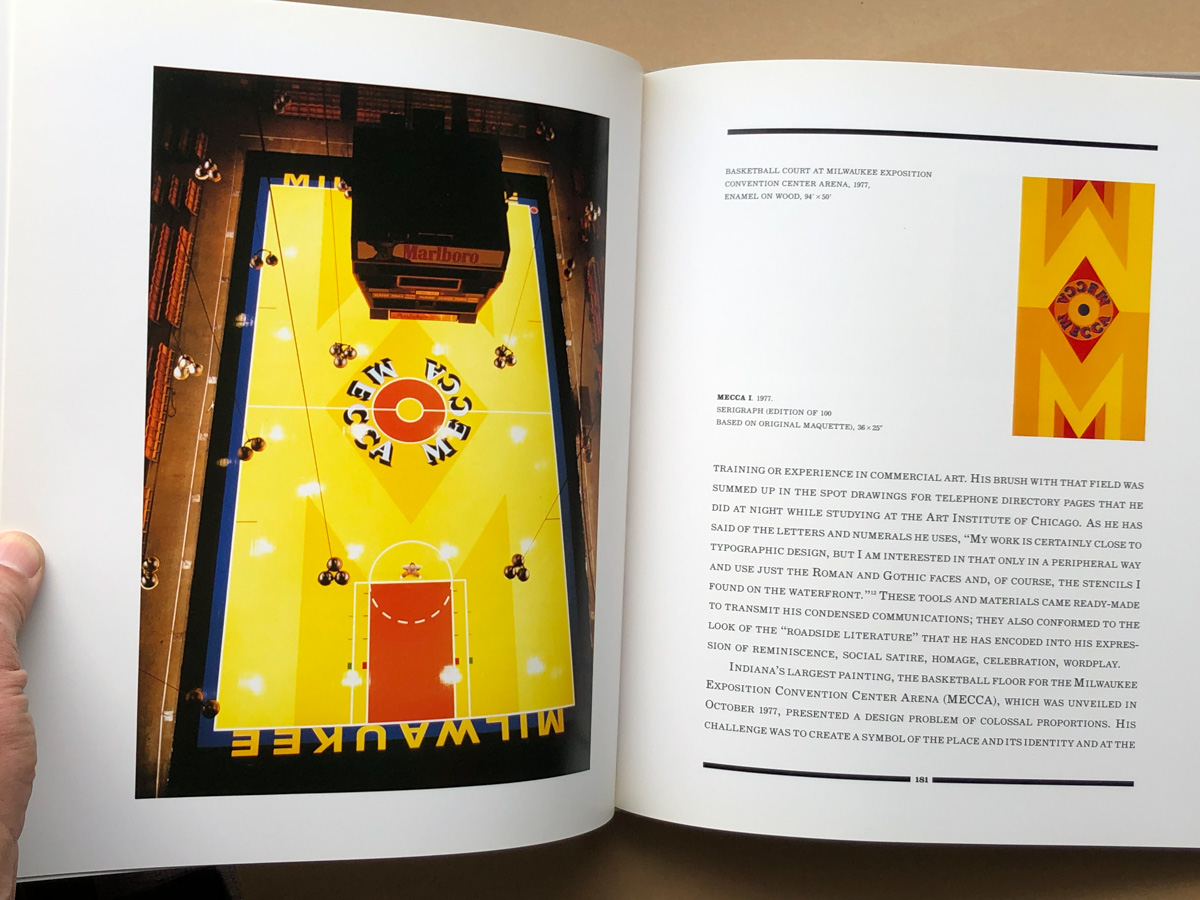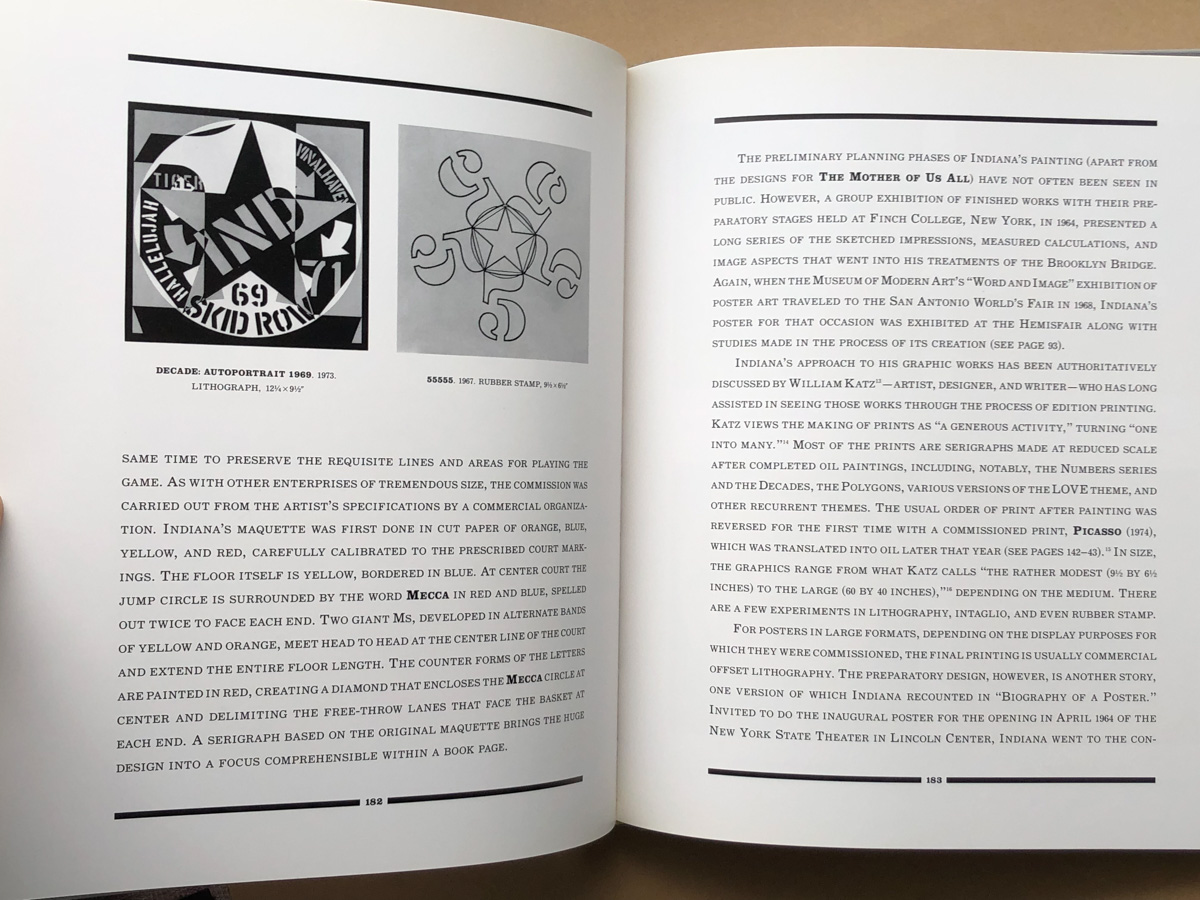 This sale also includes a copy of "Robert Indiana Prints: A Catalogue Raisonné 1951-1991" by the Susan Sheehan Gallery. The pages devoted to the MECCA prints are shown in the photos and the technical information about the prints comes from that text:
"Serigraph in colors on white Arches 88 paper. Edition: 50. Signed, dated, titled, and numbered in pencil. Proofs: 6 artist's proofs, 4 printer's proofs. Image: 23-7/16 x 12-7/16 inches (59.5 x 31.6 cm). Sheet: 36 x 24-7/8 inches (91.4 x 63.2 cm). Printer: Simca Print Artists, Inc., New York. Publisher: Posner Gallery, Milwaukee Wisconsin."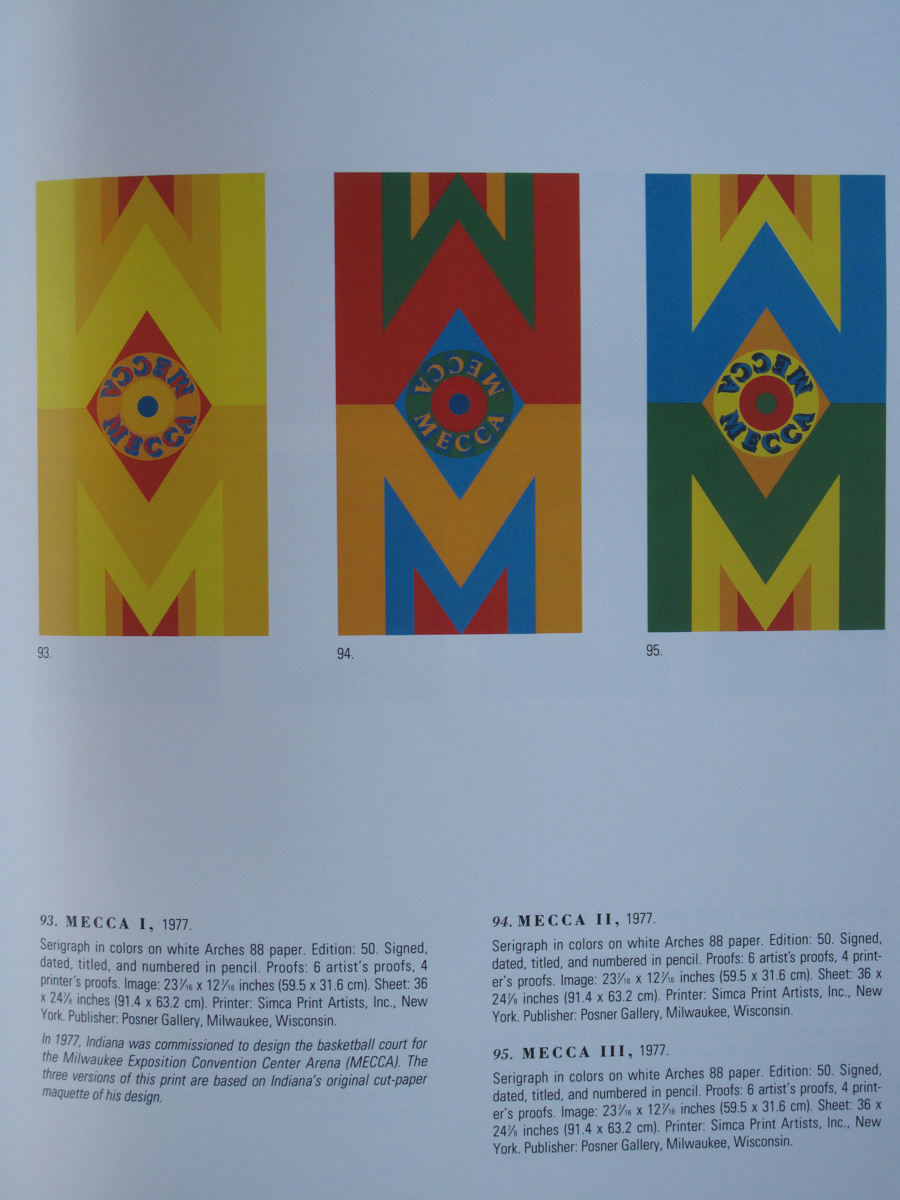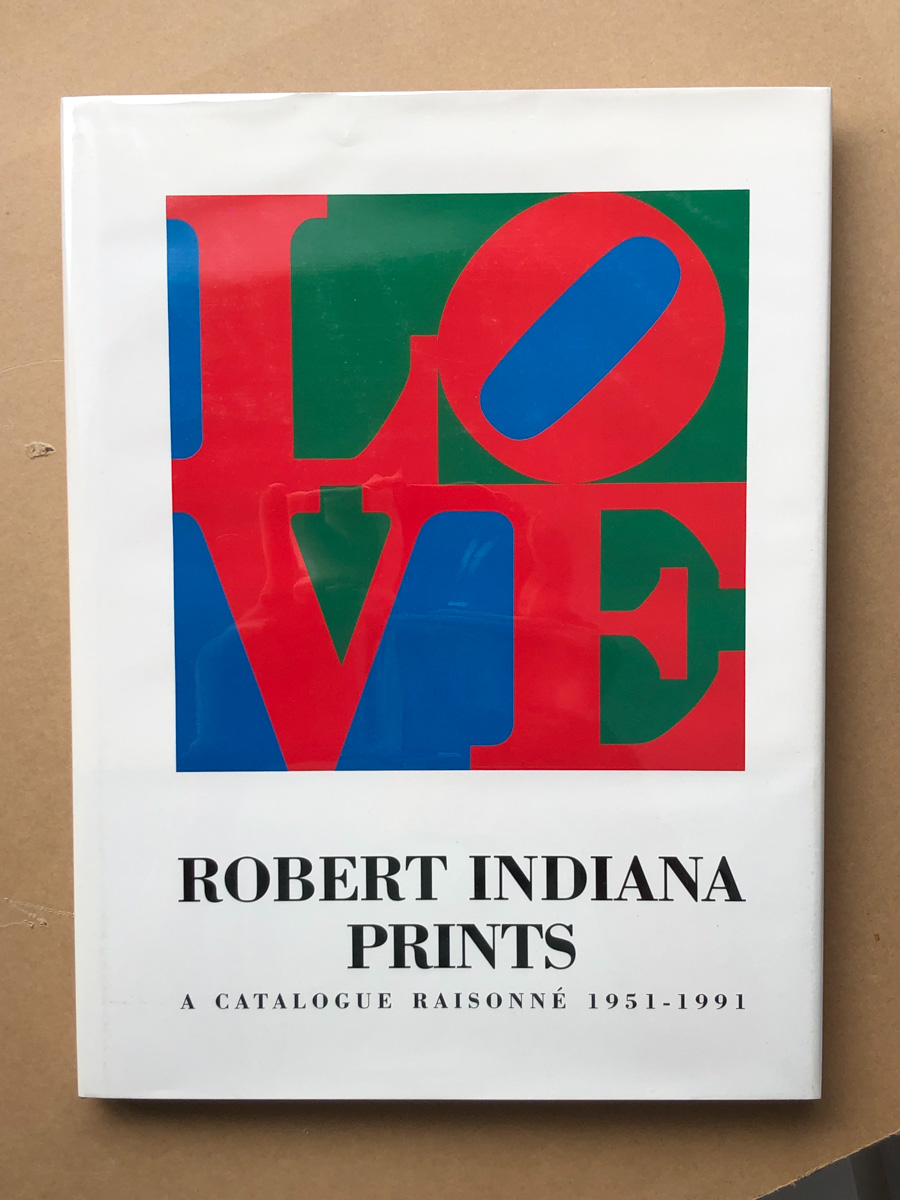 Finally, this sale includes a black and white silver gelatin print publicity photo of Indiana standing triumphant on the MECCA floor. It's signed by the artist in what looks to be a felt tipped pen, like a Sharpie.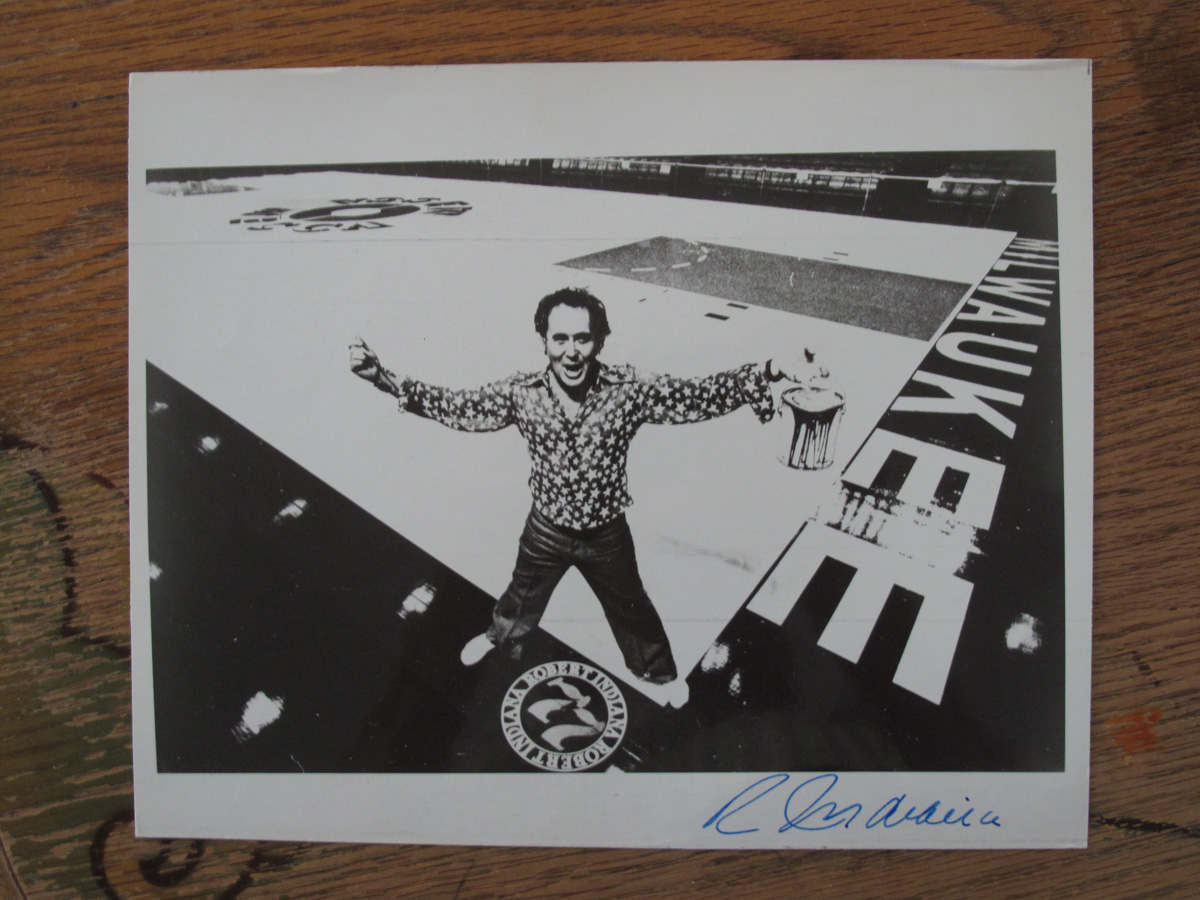 I'd strongly recommend that you have a professional remove them from the matte board prior to framing them with ultraviolet-screening plexiglass and fresh archival materials. And I believe the best way to ship these – they are in San Francisco – would be to use a carrier with in-house experience in packing and transporting valuable art, such as Craters and Freighters.
I'll close by saying that prints of LOVE, and the later HOPE, images Robert Indiana is most famous for, can sell at auction for $5K unsigned, and for $20-30K signed.
Thanks for reading if you've made it this far. I'm happy to discuss these prints with you, answer any questions I can, and entertain offers.