All Hands On Banner Project
2017, digital video, color, sound, 4 minutes.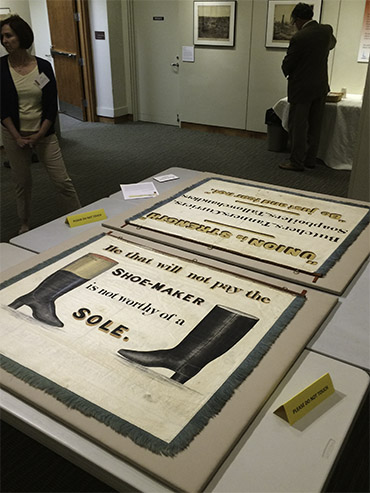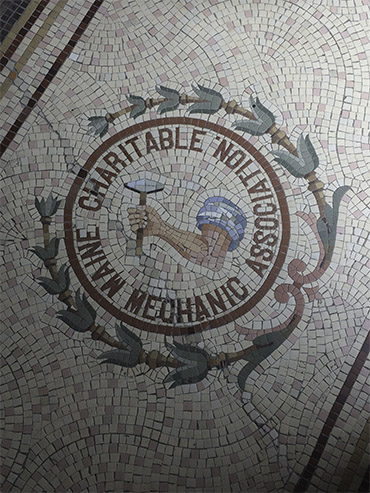 All Hands On Banner Project documents Ellen Babcock's artwork/event of the same name, a project that endeavored to weave historical signage and parade practice with contemporary concerns in art and labor. Ellen collaborated, over an extended period of time, with trades- and craftspeople, students, artisans, and under-recognized laborers in Portland, Maine, to design images and slogans for thirteen hand painted banners. In contrast with the 36" x 42" silk banners from 1841 – written about by her father, labor historian Robert H. Babcock – her banners were larger (45" x 60"), on canvas, carried by pairs of marchers, and linked by ribbons.
The parade was held on 2 Sep 2016, the Portland First Friday Art Walk nearest Labor Day.
Enjoy.
Beginning at the moment I began to comprehend the project and continuing on through the editing, words from Billy Bragg's Between the Wars (1985) coursed through my head. The single line
Bring up the banners from the days gone by
seemed, at first, enough to encompass the project, but as time wore on, it was supplanted by the verse
Call up the craftsmen
Bring me the draftsmen
Build me a path from cradle to grave
And I'll give my consent
To any government
That does not deny a man a living wage
which squared strongly with the project, The lyrics that addressed prosperity through militarism –
We're arming for peace, me boys
– seemed less relevant but, as we head into 2017, the lines
I kept the faith and I kept voting
Not for the iron fist but for the helping hand
For theirs is a land with a wall around it
And mine is a faith in my fellow man
seem terribly prophetic, resonant, relevant.
I only know this Billy Bragg song because the superb English trio, The Young'uns, recorded it on Another Man's Ground, their album from 2015. Find below two versions of the song, the first, unadorned but with raucous introduction, the second in a gorgeous setting and having higher production values.