To No End Gathered

(

2012

)

16mm, black & white, silent, 7 minutes at 18 frames per second.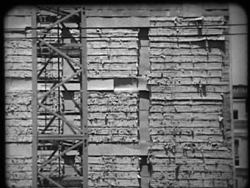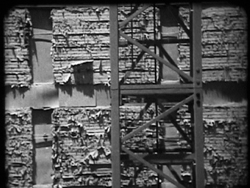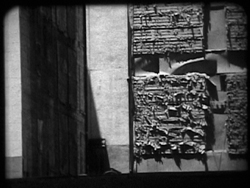 When San Francisco's landmark Emporium department store was gutted in 2003 to make room for the Westfield San Francisco Centre, the most spectacular feature of the site was its old dome, supported on a tower during construction after being hydraulically jacked into the air 60 feet above its original location in space. But a few hundred feet to the southwest was a wall covered with shredded wallpaper, bearing the imprint of former floors and walls, that came to life in the slightest breeze. I no longer remember what took me to that part of town in those days, but the sight transfixed me. It seemed to me to produce the same mesmerizing perceptual effect that makes Ned Kahn's installations so pleasurable. (SF Bay Area residents may know his Wind Portal from the San Francisco Airport BART station or its more modest cousin, Hidden Sea, located only a few blocks from the Emporium site.)
I thought: you should film this. I thought: you really need to film this. And I thought: you really need to film this very soon, because this opportunity will not present itself for very long. I have thought these thoughts before, dallied, and missed my window, so on 4 Jul 2004 (the working title was Independence Day), I parked in the Fifth & Mission / Yerba Buena Parking Garage, explored the angles from every level, and starting setting up my tripoded Bolex to begin filming. I was swiftly cornered by the garage manager and told I could not proceed.
Yes, in this, the post-9/11 world, I was told that there was significant danger that my camera would drop from a high level and injure innocent pedestrians far below. I was furious, demanded a refund, stormed out.
And returned the next day to film from the fixed position on the sidewalk fronting the garage, whose longitude, latitude, and bearing are given in the closing credits. I shot two rolls of 100 foot black and white film, in the early afternoon of a sunny day, without incident. Not one sentient having been clobbered by falling machinery of Swiss manufacture.
The film is made up of thirteen shots of long, but varying, duration.
The title comes from a line in James Joyce's Ulysses. It was suggested by Andrew Alden after I asked, on The WELL, if there was a word describing the motion of coastal sea vegetation. This, and John Cage's interest in Joyce, eventually led to many rewarding years attending meetings of the James Joyce Working Group.