Perch (a.k.a. My Roll for Peter)
2016, 16mm, black & white, silent, 2 minutes 45 seconds.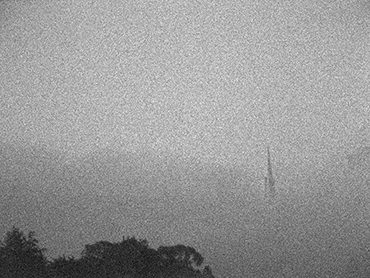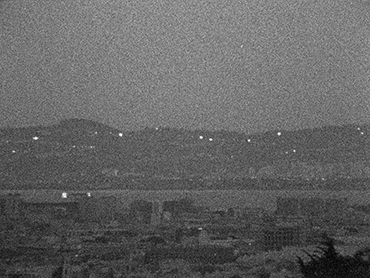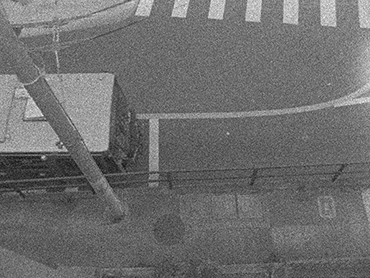 I never met Peter Hutton. Never took one of his courses, never attended a screening where he was in attendance. But I remember the impact of my first viewing of his Boston Fire as if it were yesterday, not thirty-plus years ago. Boston Fire opened up my notions of what a film might be. Twenty years later it was a great source of pride when Kathy Geritz programmed my Hojas de Maíz alongside Hutton's Looking at the Sea into one of the programs in her Living Color series.
Landscape is often my subject, whether producing still or moving images, and a touchstone for the duration of the latter is always: what would Peter Hutton do? But given the constraints of the A Roll for Peter project I had to sacrifice duration for variety of composition. Using outdated 7224/4-X – a black and white negative stock discontinued by Kodak in 1990 – I shot scenes of the San Francisco skyline and the Berkeley/Oakland Hills as fog and evening rolled in, more fog the following morning, and, in a nod to a startling shot in Hutton's New York Portrait, Part III, aimed straight down at the sidewalk, finding California poppies rustling in the wind with the 33 Stanyan rumbling by instead of a prone man being attended to by paramedics.
Because I'd waited for an evening when there was both fog in San Francisco and a clear view of the sunset reflecting from windows of Berkeley and Oakland homes I had the lab ship the only struck workprint directly to New York for inclusion in the project. It would be several months before I could see my own footage, which led off the right reel in the double projection portion of the project. Ultra-grainy and low-contrast, it would never be mistaken for Hutton's own footage but I'm pleased with the results, especially having captured the controversial Salesforce Tower while it was still under construction.
Eric Theise, June 2020
2K Digital scan made possible through a January 2019 Interbay Cinema Society Lightpress Grant.