Blog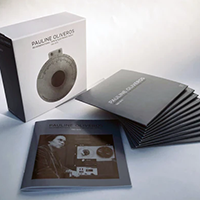 27 Aug 2014
Listening to Pauline Oliveros' Reverberations: Tape & Electronic Music 1961-1970, newly arrived.
Unearthing my 16mm print of Renga which will screen at ATA tonight as part of a friend's 50th birthday screening. An unannounced program, but $free and open, please drop by after 7:30p if you're in the neighborhood.
Revising slides for a workshop I'm running at FOSS4G in...
Deep Listening experimental film FOSS4G geo NACIS Pauline Oliveros